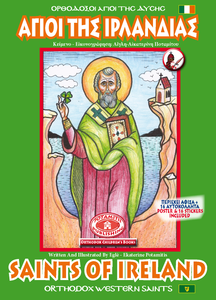 Saints of Ireland?
Aren't they RC on Ireland? They have not always been RC.
Before the Great Schism, an impressive number of saints walked the green grounds of Ireland. We've picked fifteen of them to show to your children.
If you want more of them, check our latest series, "My Synaxarion – A Saint for Every Day – A Book for Every Month," in which many Celtic series are featured.

"Saints of Ireland, with poster and stickers."
Color in the dogmatically correct icons, read the descriptions, and use the poster and the stickers.
Available in English/Greek.